There's been a lot of drama in the financial world lately: Roller-coaster market swings, interest rate jitters, trade-war worries and mid-term election craziness. Hasn't been a dull moment.
But from our perspective as real estate lenders, it's been pretty much business as usual. One of the great things about real estate can be it's relative stability. Of course the value of property fluctuates over time, but real estate investors aren't continually confronted with changing prices. Nobody gets their rental property assessed every month, much less every minute of every day the markets are open. When Jim Cramer screams "buy buy buy" and "sell sell sell," he's not talking about apartment buildings. Real estate is a tangible, lower-volatility, hard asset that is generally suitable as a long-term investment. Which isn't to say that real estate economics don't change — they certainly do and are, but the pace tends to be more gradual than in capital and bond markets.
As a natural reflection of the short-term time frame of Aloha Capital's bridge loans, we are continually focused on what the next 6-12 months will bring. And given recent economic developments in the US, we thought we'd take this opportunity to share our outlook into 2019. The question most often asked is: Are there signs on the horizon of a recession that will negatively impact the real estate industry? Arguably the best indicator for predicting recessions is housing starts. In his 2007 paper Housing IS the Business Cycle, UCLA economist Ed Leamer foresaw the great recession. He pointed out before the financial crisis that "eight of the ten recessions were preceded by sustained and substantial problems in housing." Make that nine of the last eleven… But today Leamer does not believe housing starts have peaked. He told Marketwatch that: "Based on historical standards, we're still at levels that are sustainable. I could see 1.2 million being a 'new normal' based on the aging of the U.S. population." U.S. Housing Starts since 2000.

Housing starts hit 2.3 million in January 2006, then declined down to 500,000 in January 2009. Since then they've moved back up to 1.3 million, well below the 2006 peak. As we've discussed previously, housing demand hasn't caught up with historical trends yet — primarily because Millennials are delaying household formation compared to prior generations. This largest part of the U.S. population will be playing catch-up, increasing home buying, in the years to come. So, housing demand should have a positive underpinning in the months and years to come.
Other economic indicators also continue to hum along. The Department of Labor reported last week that wages and salaries jumped 3.1 percent, the biggest increase in 10 years. Wage increases have lagged the economic recovery since mid-2008. The strong jobs market reflects an accelerating economy, not one sliding toward recession. Certainly, there are signs that the historically strong residential real estate market is cooling — especially in previously hot markets.
According to Redfin, one in four sellers of U.S. homes cut their asking price in the four weeks ending Sept. 16, the highest percentage since 2010. Once overheated markets like Seattle and San Jose saw some of the biggest increases in price cuts, Redfin reported. Other hot markets like Boston and San Francisco are seeing prices level off. And in New York, a glut of luxury condominium and rental towers has led to big drops in rents and sale prices. Flipping is slowing down, especially in the formerly overheated cities. According to Attom Data, the volume of home flips year-over-year were down by 18% across the country in August, marking the third time in the last six months home flipping has dropped by double-digit percentages year-over-year. In California, it was down 22 percent in August, the fifth time in the last six months there's been a double-digit percentage drop there.
Unquestionably, the flipping market is more challenging now than mid-decade when abundant distressed sales allowed flippers to buy at deep discounts. The shrinking of distressed supply combined with an uptick in interest rates has squeezed the typical home flipping return. However, we've seen successful flippers continue to achieve favorable returns by turning to leverage financing and/or migrating to markets with more distressed discounts available.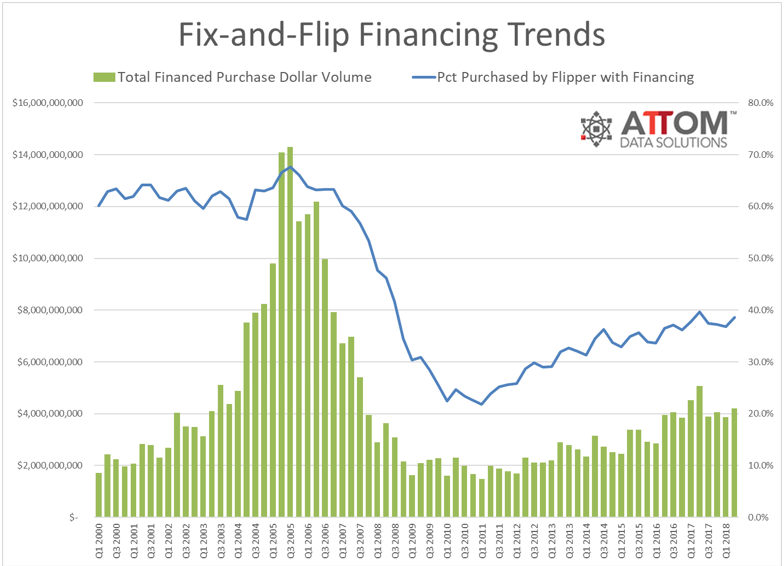 And what about rising interest rates, the financial media's favorite boogeyman? The fact is, rates are still abnormally low on a historical basis. With today's 30-year mortgage rate just under 5%, it's important to remember that the historic housing boom in the mid 2000's occurred with mortgage rates in the 5.5% to 6.5% range. Economist Robert Shiller, Nobel Prize winner and predictor of the real estate downturn a decade ago, recently told CNBC that: "I don't expect a sharp turn in the housing market at this point…you can call it a bubble because home prices have been rising since 2012, but it's not the same.
It's more placid." He makes a great point. Many of us were in the business back in 2008-09 and remember that time vividly. But the great financial crisis was most likely a once-in-a-century event, caused by excesses never before seen or likely to be seen again in our lifetimes. Odds favor the next downturn being more of a garden variety recession, rather than a collapse. U.S. 30-Year Fixed Mortgage Rates
In any case, Aloha Capital will continue to focus on funding sound deals with our borrowers at the right LTVs instead of the noise surrounding the economy and the financial markets. Ultimately, slower and steadier is how we want to build wealth — making smart, asset-backed loans while managing pipeline risk.

Please reach out with your questions and interest in working with Aloha Capital in this excellent investment–Aloha LTD Income Fund.

We greatly appreciate your patronage and trust.